What do you find the most difficult to draw?

That must be hair. Getting a natural looking light and shadow composition on it. But they say you can differ good artists from less good ones by studying their way of drawing fingers and toes. I don't know...


And easiest?

Wouldn't most artists say 'eyes'? :) Faces etc.. Easy. Or maybe that's because I like drawing this mostly and it makes it more easy due to the practice behind it?


That's the opinion of most scene artists nowadays. A lot of art that is entered in party compo's is faces. Do you ever look at what the scene-artist produce today?

Oh yes I do. But mostly when I open the zip archieves from the various graphics competitions, I browse quickly through I must admit. Some times I get enough just by looking at the thumbs... Still, there are some good artists out there! Jamon, Louie, Mirage, Splif, Optic, Made, Mustafa and Madd are probably among the best, active, ones out there at the moment. Saffron and Visualice have a nice and interesting style, but I seldom get impressed. And I am fed up to see either of these two do graphics for nearly all demos that get released nowadays - which again says a lot about how quick and easy it is to spit out work like this.

Great to see old-school sceners like Peachy back in action and with success in recent graphics competitions. Altho' I have to say I prefer his pixel art. But his Photoshop skills are getting along - less and less over-antialiased. ;) Seen some of Critikill's work... Very up and down with him, makes me wonder sometimes. Other good, present, artists worth mentioning are Cyclone, Acryl, Der Piipo, MRK, Java, Anthony, Neurodruid, X-Man....


Do you only draw on computer?

I enjoy drawing on paper, too.. Mostly pencil sketching, but I must be honest to say that it is a bloody mess. I prefer the clean 'undo' method. :) However, I want to try out oil painting sooner or later. I have tried it once and really enjoyed it! Even though it might seem boring, I would love to paint landscape motives actually. But again... Time!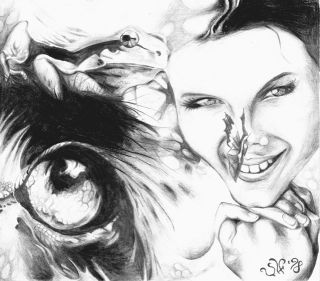 Are you pleased with your pictures?

I don't know. Not many of them I'm afraid. I have got to hear that I am more of a graphic designer than a graphic artist. I must say I agree to that.


Not many? Which ones are you not so pleased about?

That was an easy one.. Hehe. Most of them. But then again, that's easy to say now, years after, right?


What is your favourite demo?

Again, so difficult to choose my favourite demo. Nexus7, Inside, Captured Dreams, Stars, Tint, State of Mind, Wonder, amongst others are really nice. But to take a new demo, I must say I really enjoyed "A touch of funk" by Digital Murder because it has a funky theme througout the whole demo, nice character design, brilliantly animated as well as funny, and damn well scripted. Not too sure about using commercial mp3s in demos tho since the demos will loose the touch of the demo scene feeling and become more of a commercial music video. But what can we do?

The hardware limits seem to loosen up more and more and it is not so easy to impress anymore, so that part of the fun has gone lost. =/ So it has to be done by graphics, design and fashion innovations nowadays. I also like the finnish guys, Orange and Mature Furk as well as some of the Sunflower's stuff. I am still waiting for some new demos with more quality graphics as in good old days. Today, you mostly get demos with either Visualice or Saffron look-alike graphics/design which I am starting to get fed up with to be quite frank. Come on people! Be abit more innovative and creative..! :) And another thing I would like to say while I am here; Please stop adding layer with layer with demo effects on top of each other - it doesn't look nice nor cool - just messy. Especially if you don't know how to mix colours properly when using colour addition/subtraction...


Any favourite scene-artist?

Danny for being the ultimate perfectionist. Ra for his wicked colour mixing and originality. Lazur for his eye for detail. Mack, Walt, Uno and Hof - the marvellous pixel pushers. And finally Made who has a slice of the abilities from each of those above and being so damn productive that I wanna kick his French ass. :)


And what is your favourite picture ?

I don't know. There is so much I like... Just look at your archive of pixel art at your highly beloved "GfxZone". How can you possibly just pick out a favourite picture between all those? Anyway, recently I was very impressed by a French artist called Splif. Neat and clean style with good saturation in his colours. Don't remember the name of the picture I have in mind, something with "Purple". (Ed: "Purple eclosion") Lovely. Other new artists that have really impressed me are the two Polish guys, Mustafa and Madd.


What is your point of view on scanning/retouching debate?

Well, it is an easy way of escaping a lot of work I must say. Don't scan, it will just give you bad conscience and you won't feel satisfied with your work. Do something from scratch which is your own, unique work and you will feel different and more satisfied in the end. Shit, sounds as if I talk of experience. But I'm not. :).


What projects are you currently working on?

A demo and a music disk.


And what are you're plans for the future?

Hopefully when things calm down in my professional life I can indulge myself with things I would like to do. Perhaps draw some more scene art, pixel art, pictures, logos, compose music, etc.. It has been a while since I did that now so I want to prove to myself I can still do it. Or maybe I've completely lost it? Composing music. Oh dear, I can't almost remember last time I made a tune.. Must be back in January or something.. =/ Years ago I made 4-5 tunes a week at least!


If you could give beginning artist a point of advice, what would it be?

I wouldn't listen to what all the other artists say and tell you to do, develop your own point of views on things instead - don't be afraid of doing it your own way! Just look at me, I am a dreadful example of how an artist shouldn't be like! :)


It's time to end the interview. Anything you would like to say to the readers? Any hellos??

Yes, as I said in the beginning of this interview regarding job opportunities at Eurocom; if you think you're a good pixel artist and you are up for a full-time job, please don't hesitate in contacting me! We'll sort you out.. ;)

Cheerios to my work collegues and scene friends: Optic, Subagazi, Alive, Gfx-Twins, Artur, Maciej, Adok, Chromag, Virgill, Jogeir Liljedahl, Orome, Lynne, Tim, Shorty, Chris Maeland, Paul Wiik, Jana, Karl, Mermaid, Sixpack, Rez, Jukebox, MRK, Loonie, Danny, Facet, Lizardking, Hardfire, Darkus, Smash, Slummy, Skint, Zack, everybody at Dejavu, and to the rest I happened to forget right now...

And finally a special one to my dear Cinthia... Love you to bits!



---


Visit our BoO gallery.

BoO can be reached at this email address